The Children of Children Keep Coming
An incredible production of Russell L.Going's Epic GriotSong) is opening next week in Charlotte.
Many of you may have met Russ on a recent trip to Atlanta in which he spoke at Morehouse College and to groups at the homes of Private Collectors about his expansive Collection and his relationship with notable Artist, especially Romare Bearden.
Mr. Goings, the former Pro Footballer, Investment Banker and Co-Founder of Essence magazine will be in Charlotte for the opening and a day or so after, so if there is interest, a convoy is very possible.
While Opening night is the 27th, there may be interest by some to travel on Thursday afternoon for a Show on Thursday or Friday nights.  We can also visit the Mint and Gantt Museums. while in Charlotte.
Please let me know of your interest as we should purchase our tickets and book hotels ASAP.
More Info
Get Tickets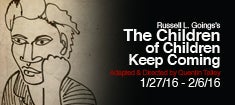 Jan 27 – Feb 6 , 2016
DUKE ENERGY THEATER at Spirit Square
………………………..
The Children of Children Keep Coming
Jan. 27th – Feb. 6th
Duke Energy Theater at Spirit Square
Our Season of Adaptation's  continues with an OnQ original, based on the epic poem by Russell L. Goings, featuring images from world renowned visual artist and Charlotte Native, Romare Bearden. The Children of Children Keep Coming, adapted & directed for the stage by Artistic Director, Quentin Talley, presents a riveting chronicle of the African American experience in the United States.

This Epic GriotSong, takes us on a dramatic odyssey with two anonymous slaves running to catch the Freedom Train, where at journey's end they hope to find liberation. Generation after generation, these determined travelers, with dangerous crows circling around them, roam through fields holding their dead; step over graves of the once enslaved; walk across beds of red, white, and blue flowers, all for the opportunity to one day march on the green lawns of democracy. Throughout their entangled journey, they meet imaginary and mythological characters. But it is down by the riverside where their belief that a time of change will come is affirmed by engagements with "giants" such as Frederick Douglass, Billie Holiday, Hank Aaron, Sojourner Truth, and Rosa Parks.

The Children of Children Keep Coming is strung seamlessly together — by poetry and prose, blues and gospel, hymns and jazz, work songs and prayers — forcing the universal harmony of the cry for freedom and justice to reach an unforgettable pitch that cannot be ignored.

Performances
Jan 27 – Wednesday at 7:30pm | Jan 28 – Thursday at 7:30pm |  Jan 29 – Friday at 8:00pm |  Jan 30 – Saturday at 8:00pm | Jan 31- Sunday at 3:00pm | Feb 3 – Wednesday at 7:30pm | Feb 4 – Thursday at 7:30pm | Feb 5 – Friday at 8:00pm | Feb 6 – Saturday at 8:00pm

Duke Energy Theater at Spirit Square
345 N. College St. Charlotte, NC 28202

Tickets
Tickets are $28 general admission.
Group rates also available, $15 (for 10 or more).

***$18 Seniors (65 and older), $12 Students with a valid id (only available 2 hours before show)***

All Tickets available by calling box office at 704-372-1000 or

go online to www.carolinatix.org
2015-2016 Presenting Sponsor